Research & Development Policy
F.C.C. develops most of its own production equipment and has built production lines ensuring both high quality and low cost. This, we can say with pride, is F.C.C. technology. Our rigorous simulations are designed to make clutch features scalable under imaginable operating conditions, and our testing capability extends to the harshest conditions. This, too, is F.C.C. technology. Although we hold specialized technology in a wide range of fields, to us its mere possession matters little. What matters instead is that all vehicles equipped with our clutches provide its occupants the joy of safe and pleasant riding wherever they are driven. F.C.C. concentrates its lasting efforts on what lies behind technology.
Testing Facility
Tests to Support Reliable Performance under Extreme Conditions

F.C.C. conducts strict tests in the development stage for measuring the functional characteristics of clutches in every conceivable working environment. We perform a series of tests, including

1) Numerous computer simulations of starting, running, and stopping.
2) Running tests with a clutch on board.
3) Tests under harsh conditions including high-speed endurance tests. Through these tests and simulations, we ensure that all clutches we supply exceed the thresholds for safety, thermal resistance, and abrasion resistance with room to spare and can meet detailed requirements, such as how the clutch feels in the operator's hand.
Scooter - CVT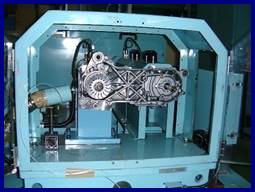 CVT units are tested independently under test conditions approximating those encountered in actual onboard conditions. In addition, performance and durability tests are conducted under harsher conditions.
Motorcycle - Chassis Dynamo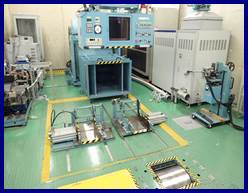 This device simulates all vehicle conditions, including starting, running, and braking, and quantifies vehicle conditions. The information obtained is then used to design standalone tests of the conditions applied to the clutches.